Today in DFD history – December 12, 1977

Detroit Fire Department Firefighter Michael L. Johnson made the ultimate sacrifice in service to the citizens of Detroit. At the time of his death Michael was assigned to Ladder 11.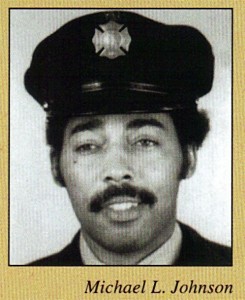 Photo courtesy of the Detroit Firemen's
Fund Association history book.
On December 12, 1977 at 9:57 am Ladder 11 responded to an alarm of a fire at 3433 E. Warren. Ladder 11 proceeded out of quarters, turning left on Milwaukee. Firefighter Johnson was the tillerman of Ladder 11. Firefighter Johnson signaled the driver with 2 beeps of the buzzer that he was ready for the rig to move.