I often get questions from readers like you. I thought it would be helpful to create a resource page that you can always come to for answers to some of the most common questions I get. I'll add to this page over time, so I recommend bookmarking it for your future reference and convenience. Hope you find this helpful!
Disclosure:  Please note that some of the links below are affiliate links.   I will earn a commission if you decide to make a purchase, at no additional cost to you. Please understand that I have experience with all of these items/products, and I recommend them because they are helpful and useful, not because of the small commissions I make if you decide to buy something.  Please do not spend any money on these items or products unless you feel you want them or that they will help you.
My Most Common Recommendations
Detroit Fire Department T-shirts and Patches
Over and over again I get requests for Detroit Fire Department shirts and patches. There are sources to purchase shirts with Detroit Fire logos, but some of these companies do not have any association with the Detroit Fire Department.
Detroit Firemen's Fund Association: The Fund, as we call it, is  the source for OFFICIAL duty shirts, hats, patches, and many other items. I refer people to the Detroit Firemen's Fund because the association, although separate from the department, is made up entirely of Detroit Firefighters and at the time of this writing the fund has been in existence for 148 years. The Fund's main mission is to assist Detroit Firefighters and our families when dealing with firefighter deaths or severe injuries or illness. Proceeds from items sold help them achieve this mission.
Detroit Fire Department Ride-alongs: At the time of this writing, I am not aware of any department sanctioned ride-along program. There has been discussion on bringing a program back in the future. My best advice is to contact Detroit Fire Community Relations at communityrelations@detroitmi.gov for the most up to date information.
BURN: One Year on the Front Lines in the Battle to Save Detroit : The movie BURN gives an exceptionally accurate view of what is like to be a Detroit Firefighter today. It features incredible helmet-cam footage that shows you what firefighters experience when "fighting the dragon", combined with telling the story of what Detroit Firefighters face on a day to day basis. If you want a real look inside our lives I can't think of a better way to get it.
Another thing I love about this movie is that when you purchase you are helping provide gear for Detroit Firefighters.  A portion of the each sale goes to purchase gear.   So far BURN has donated $115,000 to Detroit Firefighters.
Too Hot for BURN: This is a video that is jam packed with firefighting footage shot while filming for BURN.  If you watched the documentary and were left wishing it had more fire ground action, this video is for you.  Perfect for viewing in your man cave with an ice cold beer.
Historic References:
There are a number of books I own and continually reference for the historic information I post. Here are the most helpful.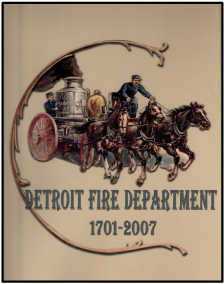 Detroit Fire Department 1701-2007: This book is divided in two sections.   The beginning section combines historic photographs and information on significant fire department events spanning from 1701 to 2007. The remainder of the book has individual photographs or all department personnel in 2007. This section also has pictures of every Chief of Department, as well as some information and pictures Detroit firehouses. Although a large portion of the book is comprised of pictures of personnel, the historic information that is included is organized nicely and very interesting.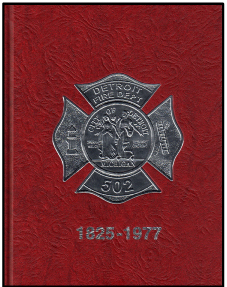 Detroit Fire Department 1805-1977: As I'm putting this reference page together I have to admit I'm a bit surprised with myself for not actually owning this book yet.  I will be rectifying that situation shortly.  I have referenced information from this book for Detroit Fire Department history several times.  It has a lot of interesting photos as well.  I will be purchasing it soon and will update you when I do.
 Our Firemen, edited by Charles S. Hathaway: Originally published in 1894 this book offers a wealth of information about the evolution of the Detroit Fire Department as well as how Detroit evolved as a city. It goes all the way back to the days when Detroit was a fort, has extensive information on the volunteer fire companies that existed before the paid department began and the early days of the paid department.
One of the things I enjoy the most about this book is the style in which it is written.  Within reading a few paragraphs you realize that we write in a much different way now that we did 120 years ago.  I also like that there are many photographs and illustrations throughout the book.
An original copy of this book can be difficult to find and can be very expensive (currently $275-$350). If you are interested in an original copy the best source I have found is Abe books.   They require their sellers to list accurate descriptions of the book's condition, and offer a 30 day money back guarantee if your book doesn't arrive in the conditions described. I have use Abe books to purchase number on a number of occasions including when I purchased my copy of Our Firemen.
A paperback scanned reproduction of this book is available through Amazon at quite reasonable prices (currently $20-$25).
Detroit Fire Department Apparatus History: A pictorial history of fire equipment that served Detroit, Michigan:
This is another book that's on my list to be added to my library.  To the best of my knowledge it is the only book available on the history of Detroit Fire Dept. apparatus.
This book is no longer in print.  Used copies can be found on Amazon for around $50.  Please note: For some reason the current Amazon listing for this book does not show the actual cover of the book.  The actual book cover is pictured here.