Once again central office has delivered a radio message no firefighter wants to hear.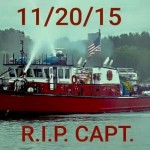 For the second time in 2 days the Detroit Fire Department grieves the lost another member who died while on duty. Walter Szelag, Captain of Fire Boat 1, passed away from what appears to be a heart attack.
At approximately 4:15 pm, November 20, 2015 crew members radioed for an ambulance to be sent to the fire boat station. Captain Szelag was transported to Detroit Receiving Hospital where he was pronounced dead.  At 5:47 pm department radios delivered the sad news. ""Central office regrets to inform you of the untimely death of Capt. Walter Szelag of Fire Boat 1."
One firefighter reported that this was Captain Szelag's last scheduled shift of the season before the Fire Boat is shut down for the winter.
Related Story: Funeral Arrangements For 2 Detroit Fire Department
Members Who Died While On Duty
Captain Szelag's death comes on the heals of another Detroit Firefighter death. Just 2 days prior, November 18, 2015, Sgt. Vincent "Vinny" Smith passed away while on duty at Engine 48's quarters.
He was found at approximately 7:30 am seated in his recliner.  At this point there an official cause of death has not been released, his death also appears to be from a heart attack.
Vinny served on the department for 23 years and was currently assigned to L-13. Sgt. Smith leaves behind a wife and 5 children.
Related Story: Funeral Arrangements For 2 Detroit Fire Department
Members Who Died While On Duty