Pipeman Otto Habermas , Engine 27, died from injuries he sustained while fighting a fire in a store building at on West Fort Street early in the morning of January 31, 1915.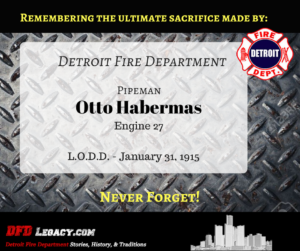 Otto was manning a hose at the top of a ladder, directing a stream through a window. A drizzling rain was falling, freezing as it hit. The ladder's rungs quickly coated with ice. A sudden change in water pressure made the hose jump to one side. Otto swayed to counterbalance the hose, but lost his grip and footing due to the ice.
Otto fell, head first, onto a concrete sidewalk. When his fellow firemen reached him he was unconscious. He was taken to the Solvay hospital by fire department motor car. Otto never regained consciousness. He died at 9 am, with his wife at his bedside.
Pipeman Habermas had been a member of the Detroit Fire Department for three years.
He was 24 years old. He left behind his wife Kate, to whom he had been married only 11 days. Prior to his death, the newly married couple had planned a small party celebrating their marriage. It was scheduled to take place the day after Otto died.