Today in DFD history – November 6, 1846
The Engine Company With an Identity Crisis
Detroit's sixth hand engine company was organized and located on Larned between St. Antoine and Hastings.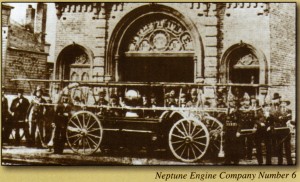 Notice the "Neptune" and "No. 6" in the arch above the door.
Great old architecture!
Although the dedicated men purchased their own engine and paid their own expenses, they apparently had an identity crisis. 
They had 4 names in 9 years.
    1846 – Michigan Number 6
    1847 – Alert
    1850 – Rough and Ready
    1855 – Neptune Engine Company Number 6
Picture and information from Detroit Firemen's Fund History Book (available through this link http://detroitfiremensfund.com/store?slug=product_info.php&cPath=23&products_id=35)
Get more history and links to all our postings in our Archieves page.

Enjoy our posts?  Have them sent directly to your inbox.
Email Address >>