Today in DFD history – November 15, 2008
Detroit Firefighter Walter Harris made the ultimate sacrifice in service to the citizens of Detroit.  At the time of his death Walter was assigned to Engine 23, in the 6th Battalion. He held the rank of Senior Firefighter, badge # 3386.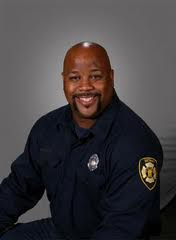 View Photos Gallery
Around 5:00 am on the morning of November 15, 2008, Engine 23 was called to a fire in a vacant dwelling at 7418 E. Kirby Street. Engine 23 and Squad 3 arrived to find flames shooting out the second story windows.
A deck gun was used for the initial knock down then the crew of Engine 23 advanced a hand line up the stairway to the second floor attic area. Firefighters had gained control of the fire and were extinguishing hot spots when the roof of the two-story building suddenly collapsed.
A section of the roof trapped Harris face down. Fellow firefighters worked feverishly to free him from the debris. He was taken to Detroit Receiving Hospital where he was pronounced dead on arrival.
Four other firefighters were injured in the collapse.
Thousands of firefighters from across the US and Canada gathered at Walt's funeral, where his son James Hill-Harris (also a Detroit Firefighter) spoke of the lessons Walter taught by the way he lived. Walter is buried in Elmwood Cemetery.
A 17 year veteran of the Detroit Fire Department
Walter Harris joined the Detroit Fire Department on March 11, 1991. The 38 year old was a 17 year veteran of the department, just week away from making Sergeant.
Walter was the first Detroit Firefighter to join the ranks of the Chaplain's Corp.  He also served as the Chaplin for the Detroit Axemen Motorcycle Club and was an ordained minister for the Community Christian Fellowship in Detroit.
Walter was married to Siri (Jackson) Harris on Valentines Day in 1993.  They have 6 sons, James Hill-Harris (currently a Detroit Firefighter assigned to the arson division), Robert Burtan-Harris, Cabet, Patrick, Christian, and Walter.  They also have 2 grandchildren, Mariyon and SaVanna.
Walt had a larger than life personality. His ever present smile, and warm, friendly way made you feel like a friend even if you had just met.
In the words a fellow Detroit Firefighter / friend, "We are all better people for having the honor of knowing him."
Get more history and links to all our postings in our Archieves page.
Enjoy our posts? Have them sent directly to your inbox.
Email Address >>