Detroit Firefighters give back to help needy families this Christmas.
Christmas is especially difficult for Detroit families who have fallen on hard economic times. Detroit Firefighters know this all too well.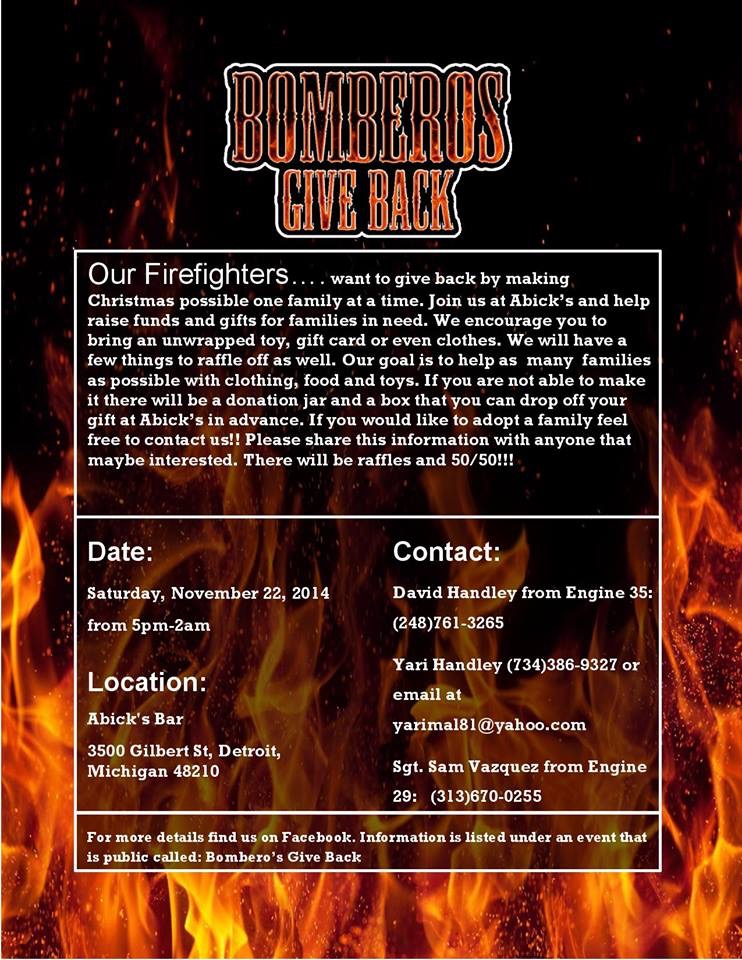 Detroit's bankruptcy, multiple pay cuts and reduced health care benefits are hitting them hard. Despite this, a group of Detroit Firefighters and their families are working to ensure several Detroit families have a Merry Christmas.
Bomberos Give Back
"Bomberos Give Back" has been collecting donations, organizing fund raisers and coordinating the "adoption" of Christmas families. For Yari Handley (wife of Detroit Firefighter David Handley), this is a passion project. Years ago Yari's family was facing difficult times. She remembers the joy they felt when others reached out to help them with Christmas.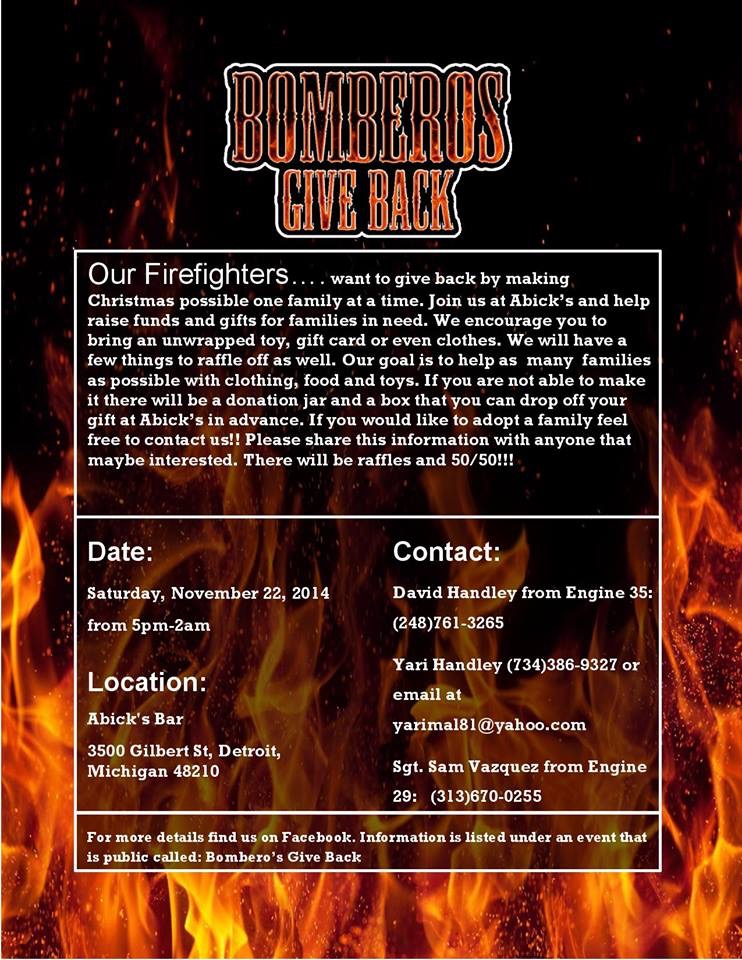 There are several ways you can join the effort.


Join in the celebration of the holiday season and help with the effort. Everyone is Welcomed. Bring a cash donation or unwrapped gift. Childrens' toys, store gift cards, and warm clothing are especially needed.
November 22nd, 2014
5:00pm – 2:00 am
Abick's Bar
3500 Gilbert Street
Detroit, MI 48210
(View Map)
There will be raffles and 50/50 drawings!


Donations to Bomberos Give Back can be made in several ways.
Cash donations can be made through Paypal,


or dropped of in the collection jar at Abick's Bar.
There is also a collection box for gifts located at Abick's.
Suggested gifts include unwrapped toys, gift cards, and warm clothing.


For more information about adopting a Christmas family contact:
Firefighter David Handley, E-35 – (248) 761-3265
Sgt. Sam Vazquez, E-29 – (313) 670-0255
Yari Handley – bomberosgiveback@gmail.com– (734) 386-9327