On February 21, 1913, a representative of the Front Driver Motor Company was in Detroit overseeing the delivery of a Christie tractor that was used to convert Ladder 5 from a horse drawn to a motorized vehicle.
Ladder 5 was a 85′ American LaFrance built in 1908 The aerial ladder was equipped with a turn table and spring hoists. It had been pulled by 3 of Detroit's powerful fire horses. The Christie tractor was a 4 cylinder, two wheel, chain driven, 90 horsepower vehicle equipped with solid rubber tires.
When fully equipped, the motorized ladder truck weighed in at a whopping 15,980 pounds. Once the Christie front end was fitted to the existing truck, Ladder 5 was able to respond at twice the speed previously possible.
The listing from the department's annual report for the 1914-1915 fiscal year gives details of the equipment carried on Ladder 5.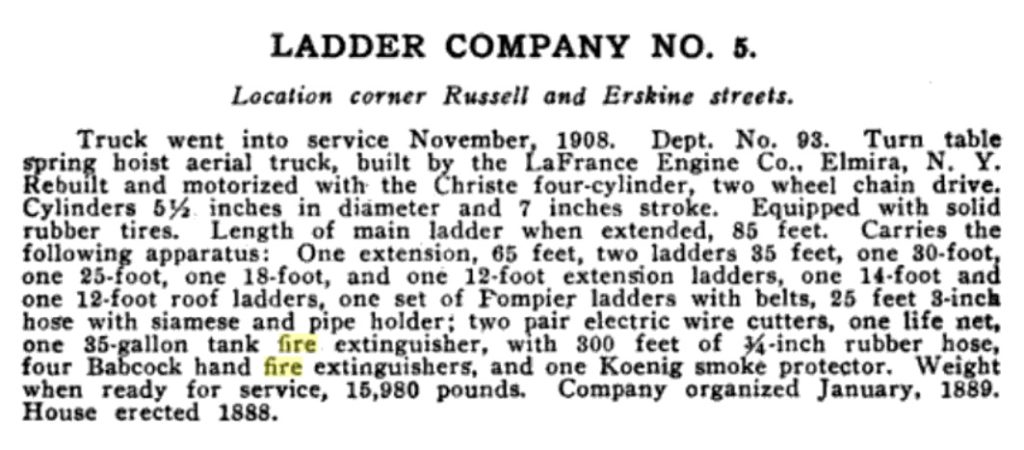 In this photo the words "Christie Front Drive" can be seen on the rig's front nameplate. It also gives a good look at the solid rubber tires the unit was equipped with.
This modern day picture shows the front of a Christie tractor that is similar to the one Ladder 5 was converted with.