Time for the memo we get every year. All XL's for October 29th –31st are canceled. Time for the repair shop to piece together any rigs that can pass off as safe to use. Time for the media and out of town photographers to descend on Detroit. It's time to buy this year's Devil's Night shirt.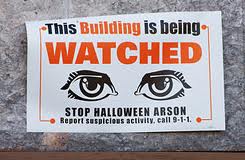 For the last several years a Detroit firefighter has designed and sold Devil's Night t-shirts. Each year has a different design and saying. My personal favorite – 2010 "Another Night in Paradise!". It's the sarcasm of the saying that really hits home for me. Working during Hi – Low (the 3 day period around Halloween) is anything but paradise. Leave days canceled, X-rigs (extra rigs not normally in service) that are less than reliable, "this building being watched" posters, command posts that no longer serve a purpose, and not enough beds for the extra personnel on-duty.
———————————————————————————–
Click for the gallery of Devil's Night T's.
———————————————————————————–
Often the shirt sayings relate to recent events in the department. This year's: "Last Man Standing", most certainly refers to the company closures and critically low manpower the department is experiencing.
Devil's Night shirts, they have become one of our newer traditions.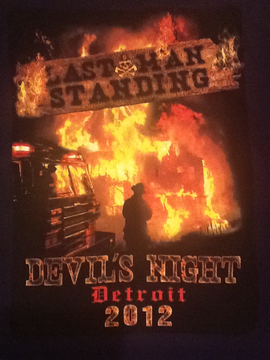 Click for a link to purchase this year's T. 
If you have shirts from years prior to 2008, send us a pic and we will add them to the gallery.
Be talking to you soon.
Sheryl Jayson(a.k.a. Sheryl Fox)
Detroit Firefighter
Engine 54
Email address >>
Let us know what you think about this post by leaving a comment below.