Today in DFD History – November
1972 – XXL days were implemented, reducing Detroit Firefighters
              scheduled work hours to 50.4 per week.

November was also a popular time to add to DFD.
1903- Engine 27 went in service at Junction at Rogers. Although they're
            no longer at this location, "The Junction Boys" are standing strong
            109 years later.
1912 – Ladder 14 went in service on E. Jefferson at Pennsylvania
         – The first motorized aerial Ladder Tractor, a Seagrave, was placed
              in service at Ladder 1
1916 – Engine 37 went in service at Central and Dix
1918 – Engine 34 went in service on Livernois at Walton
1919 – Engine 40 went in service on 12th Street at LaBelle
1924 – Engine 48 went in service on Bayside at Sanders
           – Engine 49 went in service on Grand River at Manor
1973 – The first apparatus with the "new" white-over-lime color scheme
              was put in service as Ladder 29.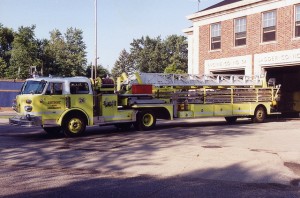 (I know the picture is Ladder 26. Sorry, but I don't have a pic of Ladder 29 with this color scheme)