My First Assignment
My first assignment with Detroit Fire Department in 1973 was Engine 27 at Junction & Rogers.  My Captain was Charlie Fisher. I worked with Best, Ventre, Haig, Mlinarich, Gurski, Klann, Kelly, Lisuk, Birmingham, Brachulis, Bartlett, Moyer, Foresi, Michinchak, Roman, Bitten, Brown, Lipscomb, Strach, Baxter, Hickman, Bryce, Dodson, Shirley, Pancake, Haney, Hoffman & Rocky.
There was a racket ball court on the 3rd floor, which we used often. The 7th  Battalion was a lot slower back in those days. Rocky was the engine house mascot.  He would fetch rocks that we threw for him.
The Fire Station Neighborhood
The neighborhood women used to plant flowers around the fire station in the spring. They also brought us treats like home cooked Tamales & cakes. We would closed Rogers and hook a sprinkler attachment to the hydrant for the kids to play in. We were part of the neighborhood. They watched out for us and treated us well.
Smitty, a retired gentleman that lived across the street, came in to drink coffee, visit with us, and play cards every day. When we had a box alarm he and Rocky would watch the house and put our meal in the oven to keep it warm until we got back. He saved a lot of meals from being burnt or going to waste. He also had hot coffee ready when we returned. Smitty was our "House Cat".
My First Fire
My first fire was on Howard Street. I had the line at the front door and thought this would be a cake walk. I didn't put my mask on and when we got water I thought I was going to just sit at the door and play away. Capt. Fisher comes behind me and says "Let's go". I think "Go where?  Damn, I didn't think this was how it worked."
Detroit Fire Department 101– We Go In! Capt. Fisher pushes me in and guides me through the dwelling, directing me on where to hit the fire. Welcome to the DFD kid.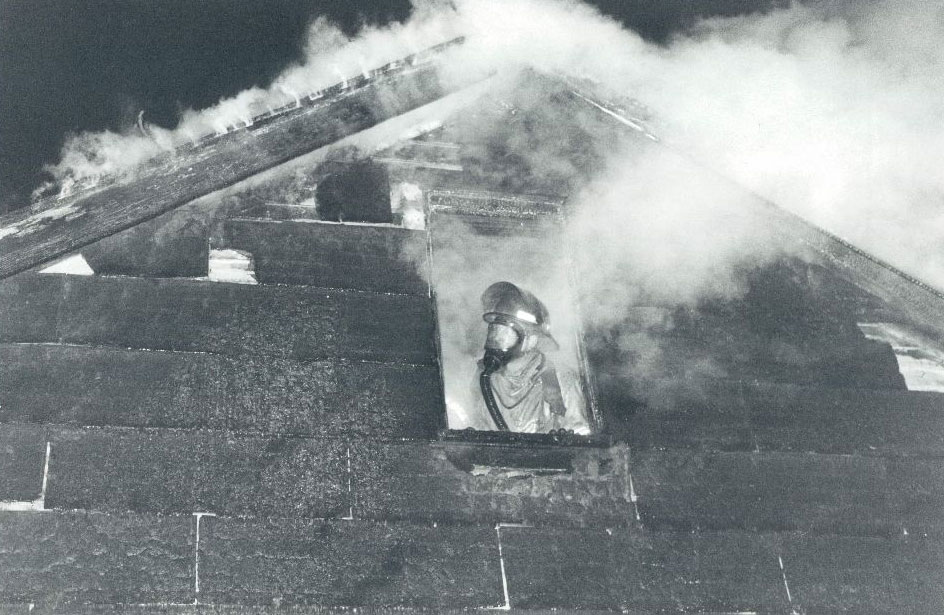 My next fire was the "Follies Theater" and then "Midwest Paper". I found out then that I was on The Greatest Job in the World!!!!
The Follies Theater building began its life as the Kirkwood Hotel on Cadillac Square.  The Family Theatre, which featured live entertainment, was opened in the building on May 3, 1909.  It could seat 943 people. In 1914 they began screen films.
Like so many other theaters, after decades as a popular first-run movie house the Family Theatre switched over to pornographic features in the 1960's.  It created quite a stir, not so much for its films, but because it didn't change it's wholesome-sounding name. However, the name was soon chaged to the Follies Theatre.
On July 26, 1973, during a screening of "Deep Throat", the Follies Theatre caught on fire. As movie goers fled the burning theater, some customers actually stopped at the box office to ask for their money back!
The shell of the theater was demolished a couple months later.
For more about the Follies Theater check out the following links: