Detroit Firefighter's Story Revealed in a Recently Released Book
Recently one Detroit Firefighter's story was revealed in a new book titled 38 Years a Detroit Firefighter's Story.  It is a memoir written by retired Detroit Fire Department Senior Chief Bob Dombrowski.  In it he recalls the highs and lows of his nearly 4 decades with Detroit Fire.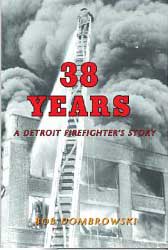 Chief Dombrowski began his career as a trialman with the Detroit Fire Department in 1972.  Over the years he rose through the ranks to retire as Senior Chief in 2010.  He served through some of the busiest years the Detroit Fire Department has experienced.  He recalls that "In the late sixties and early seventies, a lot of cities — Boston, Chicago, New York — were having arson problems. That gradually stopped. But, in Detroit, it never did."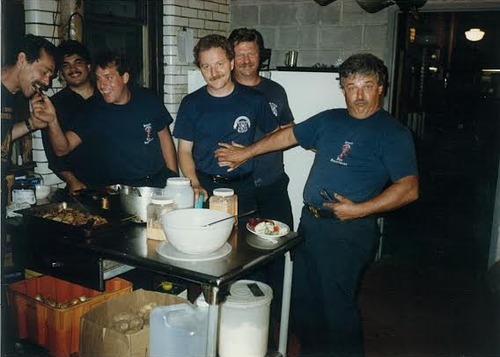 We're Held Together with Duct Tape, Chicken Wire, and Shoelaces
The arson fires continued and resources got scarce.  In the book, Chief Dombrowski shares his frustrations of a dwindling work force and firefighters having to make their own repairs on dilapidated, outdated equipment in a city with one of the highest fire rates in the country.  "We really are put together with duct tape and chicken wire and shoelaces," Drombowski says. "We have the worst equipment. Rigs are falling apart and yet we go to the most fires."
The book also gives an insiders look at the firefighting brotherhood.  He writes of the unique bonds that are formed by fire house life, recalls the painful loss of 3 fellow firefighters from a 1987 vacant warehouse fire, and tells of hanging from the ladder truck 85' over a church fire where his pompier belt saved him from falling.
In the epilogue, written not too long after Detroit declared bankruptcy, he spares no anger toward the downfall that will deprive many of their pension and health care.  Much of the recent media coverage is stating that Detroit Firefighter retirees' pensions will not be reduced.  What they are failing to report is that retirees' healthcare coverage has already been taken away.
"When I retired, we were told we'd have health care forever," Drombowski says. "We gave up raises for this stuff. Pensions are clearly written in the constitution. And now we're being called greedy?"
"It's not so much that I'm being screwed as it is I feel bad for my wife," he says. "It's unfair to her. All those 24-hour shifts. All that worrying about what could happen to me. We always thought (pension and health care) would be our reward at the end."
And yet, when you ask wo­uld he do it all over again, Dro­mbowski doesn't skip a beat.
"If you ask: Would I want a Detroit fireman responding if my home was on fire, I would say absolutely, yes! Wit­hout a doubt. In fact, I wouldn't trust anybody but the Detroit fire department with my family. Despite everything, no matter how bad it gets — they can take their pension, cut their pay, take their health care — those guys are still going to jump on that broken rig and they are going to do 100 percent 100 percent of the time."