Tickets $5
Tickets available at: 
March 17th – The Engine House – 309 Cass, Mt.Clemens, MI
Additional locations to be updated soon

View the painting at:
March 17th from 11am – 5pm – The Engine House – 309 Cass, Mt.Clemens, MI
Additional locations to be updated soon
Peter Max Peace on Earth – 2001
Original hand embellished mixed media lithograph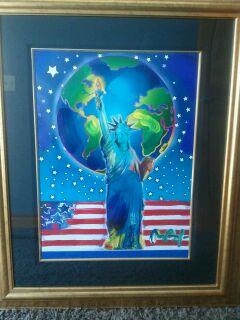 Signed in acrylics – Image is 18″ x 24″
Peter Max is possibly the best known Pop artist in America.  His career spans from the 1960s through the beginning of the new millennium.  His intensely colorful graphic style has influenced architecture, advertising, and interior design worldwide.
Max was born as Peter Finkelstein in Berlin, Germany, and was raised in Shanghai, China, and in Israel before his family settled in the United States in 1953.
The young artist trained in New York at the Art Students League, Pratt Institute, and the School of Visual Arts. After completing his studies, Peter Max opened a design studio and gained success as a designer for books, posters and products. Max closed his studio in 1964 and began making his signature colorful silkscreens. Max's work played significant role on making Indian mural paintings.
Max's art work was a part of the psychedelic movement in graphic design. His work was influential and much imitated in advertising design in the late 1960s and early 1970s.
Peter Max later evolved from a pop artist of the 1960s to neo-expressionism.
He works with multiple media, including oil, acrylics, water colors, finger paints, dyes, pastels, charcoal, pen, multi-colored pencils, etchings, engravings, animation cells, lithographs, serigraphs, silk screens, ceramics, sculpture, collage, video, xerox, fax, and computer graphics. He also includes mass media as a "canvas" for his creative expression.
Max often uses American symbols in his artwork and has done paintings and projects for Presidents Ford, Carter, Reagan, and Bush. Recently he created his 100 Clintons, a multiple portrait installation whose images were used through the four days of the Presidential inauguration. More recently, Max completed his fourth Grammy Award poster, redesigned NBCs television's symbolic peacock, was appointed as the official artist for the World Cup USA 1994 and created a "Peace Accord" painting for the White House to commemorate a historic signing.